Battery Bad, Dead Cells. Radio shuts off, etc
03-28-2015, 09:16 PM
Battery Bad, Dead Cells. Radio shuts off, etc
---
I've had since I got this Camaro a problem with the Cigarette Lighter shorting out, I think it's the back of the plug or perhaps the plug itself (wiring harness part) that is bad.. I pulled the whole Lighter Socket out so there is just a hole in the dash where it once was.. I put electrical Tape around some of the remaining part.. and it hasn't been a problem (that I know of Since). I Just replaced my Harmonic Balancer this week.. but the past year or so my Radio and Wired in Radar Detector tied into the "ignition" fuse (aka comes on only when the car is on) randomly shut off and restart.. the whole car doesn't shut off though? This wouldn't be a battery causing this would it?

My Tahoe had a Wire stripped and trapped under the battery that would randomly short out and cause the entire vehicle to lose power and drain the battery.. found this randomly after several trips to Autozone for a battery/alternator check and replacement of a battery.. not sure if it's just a difference between which ground is shorting out as to whether the entire vehicle shuts off or what...

It is a Convertible.. just in case that changes anything with the wiring.. I'm pretty sure there is a short in the center dash area between the cigarette lighter and the radio

is there a known issue in that area? any ideas... removing the center floor console seems like a PITA.. (Cig. Lighter)
03-28-2015, 10:28 PM
Re: Battery Bad, Dead Cells. Radio shuts off, etc
---
Removing the console top isn't very difficult. Remove the two screws under the coin holder in the console compartment. Remove the clip holding the shifter handle and remove the handle. If the car is auto trans, put the shifter straight up and disconnect the battery to stop the chiming (or use earplugs). Pull up the console top, Remove the shifter lamp socket. FYI, the white cable in the photo is not stock (audio cable).
03-29-2015, 09:32 AM
Re: Battery Bad, Dead Cells. Radio shuts off, etc
---
Is your radio still powered through the stock power connections - unswitched power to the memory, ignition switched power to the head unit? Where did you tap in the power supply to the radar unit?

The stock wiring to the radio passes switched power through the retained accessory power (RAP) section of the body control module (BCM). The BCM is notorious for intermittent connections on the circuit board as the unit ages. If you are getting your power through the RAP/BCM, Gary can tell you where to repair.
04-04-2015, 09:44 AM
Re: Battery Bad, Dead Cells. Radio shuts off, etc
---
I have an Automatic. No idea how to remove the Shifter Handle? From a google search it seems as though I might have to cut the leather cover to access a clip?
The Radar is installed into the IGN switch.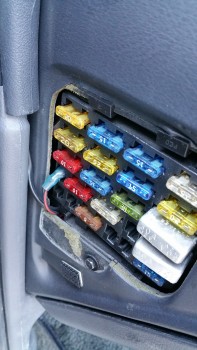 The radio is an aftermarket, it is "spliced" in, but I have checked the connections several times. Once I figure out how to get the shifterknob off I'' check every wire running behind the radio and under the console!
04-04-2015, 11:42 AM
Re: Battery Bad, Dead Cells. Radio shuts off, etc
---
There's a big staple that holds the shift **** on the lever. Should be visible and does not require any cutting. Just pry the staple out.
04-04-2015, 12:01 PM
Re: Battery Bad, Dead Cells. Radio shuts off, etc
---
I was just about to ask you how to get it out.. lol
I guess a screwdriver will work after all... it will just go right back in if I don't mangle it right?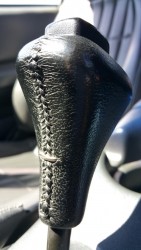 As far as the wiring the Radar to the fuse block, that is the cleanest way to wire it right.. rather than splicing into the radio wiring? Shouldn't have any cause on the power to the radio going out over bumps...
Thread
Thread Starter
Forum
Replies
Last Post
General 1967-2002 F-Body Tech
General 1967-2002 F-Body Tech
General 1967-2002 F-Body Tech