Wheel & Tire FAQ - Drag Wheels
01-29-2008, 01:14 PM
Super Moderator
Join Date: Nov 1998
Location: Hell was full so they sent me to NJ
Posts: 67,209
Wheel & Tire FAQ - Drag Wheels
---
In order to make the FAQ topics easier to find, I've pulled out the "drag wheel" posts, into their own thread. So far we have info on:

-Weld Pro-Star (DragLites are similar)
-Bogart
-Weld Aluma-Star 2.0

If you have specific info on size, offset, weight, required mods (spacers, grinding), etc for any of the other popular drag wheels, please send the info to me. Include active photo links if possible. Use a PM.

-Centerline AutoDrag
-Centerline Telstar
-JEG's or Summit Weld XP replicas
01-29-2008, 01:18 PM
Super Moderator
Join Date: Nov 1998
Location: Hell was full so they sent me to NJ
Posts: 67,209
Weld Pro-Stars and Draglites
---
WELD PRO-STARS AND DRAGLITES FOR 4TH GENS
Authors: Fred/Injuneer; Romoranger
LT1 4TH GENS
For drag applications, the Weld Pro-Star and Draglite wheels offer a good balance of light weight and reasonable cost. But they will not bolt directly on the
93-97
4th Gen F-Bodies - SEE BOTTOM OF PAGE FOR 98-02 INFO (covers LS1 front brakes).
FRONT:
No matter what width or offset you get, the Welds will need a 5/16" spacer. Without the spacer, the front wheels will hit in two places:
1. The spokes of the center disc will hit the spring clips that hold the brake pads in the calipers. It may appear you have some clearance, if your pads are worn, but with any decent amount of pad material, the spring clips will hit the center disc of the wheels.
2. The point where the center disc of the wheel "rolls over" to form the rim will rub on the big horizontal bar on the steering knuckle. This bar is used to support the caliper and the brake pads. While it may appear you can grind the pointy end of the big horizontal bar down, you have to consider how much life is left on your brake pads. New brake pads will move the caliper/pad out near the end of the horizontal bar.
NHRA rules require that if you use a spacer, the spacer must be hub-centric or lug-centric. That means the spacer must fit tight to either the studs or the hub, so that it is held perfectly centered, and can not move. This technically rules out the cheap spacers you can buy in your local auto parts store, that typically have five long slotted holes, so that they will fit a wide variety of bolt circle dimensions, not just the 4.75" bolt circle of the F-Body.
The use of a 5/16" spacer will move the center disc of the wheel outwards, away from the interference points. But now you will not have enough of the "shank" style Weld wheel lugs engaging the wheel studs. Under NHRA tech, the
hex portion
of the lug must engage the threads of the stud by at least 12mm. The stud does not have to come past the end of the lug opening, it just needs to have at least 12mm (for 12mm studs, ½" for ½" studs) thread engagement in the hex portion of the lug.
There are several sources for longer 12mm studs, with the correct 0.509" knurl. Lingenfelter, GM Performance Parts and ARP make them.
I used the 2.67" studs available from Lingenfelter. The problem is they have more than 1/2" of unthreaded length in addition to the 2.67" of threads/knurl. The theory is the unthreaded length help you get the wheels on the studs easier. Problem is they stick way out if you ever try and put your street wheels on. If you could get a 2.75" stud, with less unthreaded length, it would be perfect, but I don't know if they are available. Check with GM Performance Parts or ARP.
Note that once you install the longer wheel studs, the use of stock wheel lugs for street wheels will become a problem, since the studs will be way too long for closed end lugs. You will need to figure a way to swap your stock street wheels back on.
For the front, typical TRACK ONLY applications will use a 15x3-1/2" wheel, with a 1.75" backspace. Note that the 3-1/2" wide wheels are clearly marked on the face that they are for track use only. They are not designed to handle the cornering loads of a 3,600# car on the street.
You can opt for a 15x6" wheel to get a "sort of" skinny look for the front, and legal for street use. Backspace should be about 4.5" for a 15x6" wheel, and I'm not sure it they even make that backspace.
REAR:
In the back, you will want to use either:
-15x8" 5.5" backspace
-15x10" 7.5" backspace
The 8" wide wheels are good for most 10.5" wide slicks, the 10" wide wheels are better for 11.5" and larger slicks.
Once again, you will find an interference. The point where the center disc of the wheel rolls over to become the rim will hit the cooling fins on the brake caliper. These fins must be ground down flush with the body of the caliper. As long as you don't start to grind into the body of the caliper, you should not weaken it. Only the portion of the fins that wraps around the corner of the caliper, where the fins transition from horizontal to vertical, need to be ground down.
The stock wheel studs are long enough for the back, as long as you don't try to add a spacer (not recommended due to the high loads on drag wheels).
Weld Pro-Stars and DragLites require a special lug nut. It is Weld part # 601-1422. The tech description is "X-tra long mag shank, 1.380 shank length x 0.687" diameter. And of course to fit your F-Body they must be 12mm thread with a 1.5mm thread pitch, right-hand, and include a washer. The washer will be marked to indicate which side must be postioned against the wheel. Never mount the lugs without the washer, facing the correct direction.
Here are some pictures:
NOTE: The link to the last pictures is currently "down". I am doing my best to move these pictures to another server.
Rear caliper grinding:
15x10 7.5" BS, with 28x10.5-15W ET Drags:
15x3.5" 1.75" BS, with Moroso DS-2 26x4.5-15 tires:
LUGS
You need different lug nuts for the Welds. You can not use the stock conical seat lugs. The weld part # and description:
Part # 601-1422
X-TRA LONG MAG SHANK
1.380" Shank Length X .687 Diameter
12MM x 1.5 RH Open End Nuts with Centered Washers
LS1 FRONT BRAKES ON 4TH GENS
THANKS TO "ROMORANGER" for this writeup:
I just simply used the 5/16" spacer made by Mr. Gasket that was recommended by a few members on the board here. The only thing about this spacer is that i am not sure about whether it truly is hubcentric. It does get held in place by the hub in the right general location, but if i were to do it again I would get one made that is measured up properly. I actually still might do this.
The wheels fits over my ls1 brakes without any grinding, and I am running 15x3.5" prostars with the suggested backspace per the wheel/tire faq. The tire i am running right now is just a 165/80/15. I even went so far as to brush anti seize all over the caliper and spin the wheel. there were no interference points.
I am running the longer wheels studs from GM. their part number is 22551491. I only run these in the front, they are not hardened and have been known to break in the past. I am also using the McGard lugs. There part number is 63002. They are a 1-3.8" shank open ended lug that works with the pro star/drag lite series wheel.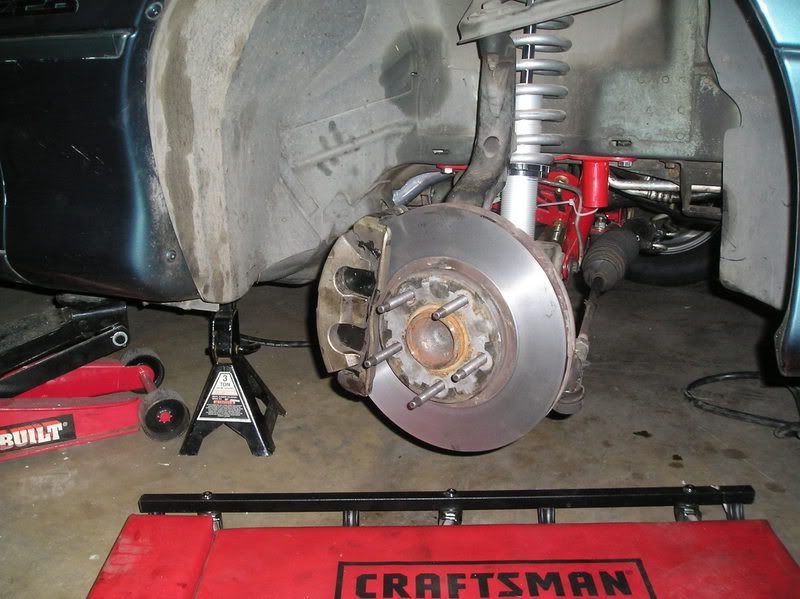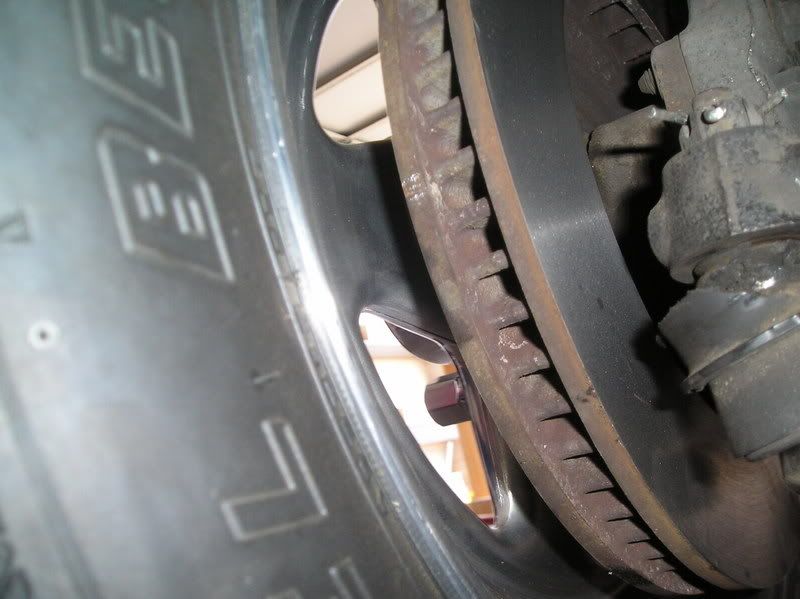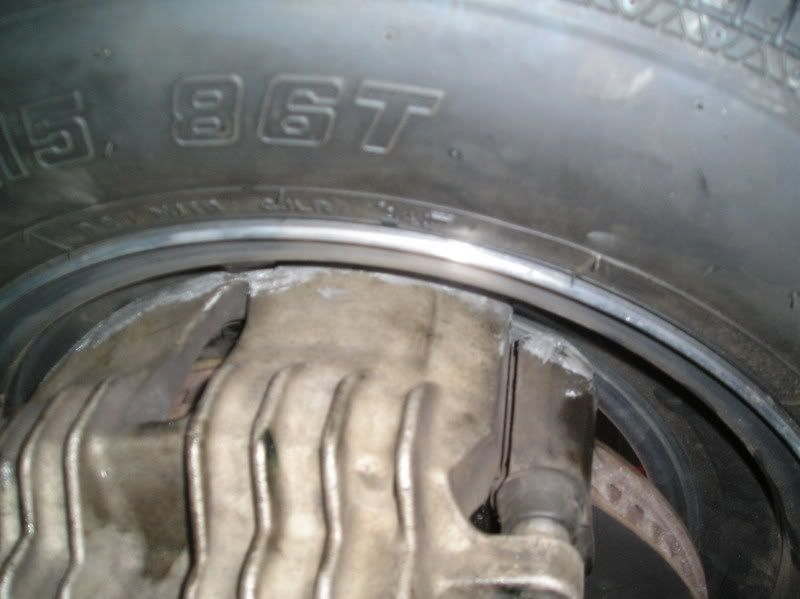 ---
Last edited by Injuneer; 03-04-2015 at

10:24 AM

.
01-29-2008, 01:22 PM
Super Moderator
Join Date: Nov 1998
Location: Hell was full so they sent me to NJ
Posts: 67,209
Bogart
---
BOGART DRAG-WHEELS FOR THE LT1/LS1 4th GEN
Authors: S. J. Monte; Fred/Injuneer
Bogart, with the assistance of one of our CZ28.com members – Steve Monte - has come up with a set of drag wheels intended specifically for the 4th Gen F-Body, and NOT requiring any spacers, grinding, excessive stud lengths, etc. And, these wheels are extremely light, among the lightest you can buy.
First, one caution. Bogart wheels are intended only for drag use ONLY. They are not intended for street use.
As mentioned, the Bogart wheels are meant to be a direct fit wheel for 4th Gen F-bodies. No modifications are necessary. The wheels are the lightest direct-fit drag wheel available. Weight savings over other manufactures are claimed to be up to 34% LIGHTER in rotating mass PER wheel, when you consider the hardware required.
Unlike other drag-wheel designs, no spacers are necessary, no grinding is needed! Each design is specific to the LT1 and LS1 F-body. Typical wheel-widths consist of a 15x10" for the back, and 15x4" for the front. Backspacing is correct to keep the wheel/tire fully under the fenders, without causing interferences with the inner fenders.
Since the Bogart wheels are custom built, there are NO parts numbers… wheels can be built in a multitude of ways. Since they can be built differently, pricing can vary. For example, wheels can be built with a 5" backspacing in a multitude of ways and still retain the same backspace. And, custom backspaces are available – Custom backspace in ¼" -½" increments are possible for special applications.
From my personal experience, these are extremely high quality wheels. I helped obtain a set from SJM Manufacturing for George Baxter's 1,350 HP 30th SS convertible…. Interestingly, we chose the "SS" model. In addition to looking good, fitting perfectly, and helping reduce the race weight of the vehicle, the wheels helped propel the 3,450# 30th SS convertible to 8.60 @ 160+ MPH passes. I have some pics of George's car on my website, and I'll post the links.
Contact a participating representative to ensure the wheel is built correctly for your car.
Information
Available Designs
F-Body Wheel Gallery
---
Last edited by Injuneer; 03-04-2015 at

10:31 AM

.
01-29-2008, 01:23 PM
Super Moderator
Join Date: Nov 1998
Location: Hell was full so they sent me to NJ
Posts: 67,209
Weld Aluma-Star 2.0
---
WELD ALUMA-STAR 2.0's FOR A 4TH GEN
Author: Thanks to
Warren / "The Engineer"
for this writeup on installing the Weld Aluma-Star wheels on his spotless Z28.
FRONT:
Weld AlumaStar 2.0, 1-Piece Front Runner (Part Number 788-15272)
Specifications: 15" x 3.5"with 2.25" back-spacing (5 x 4.75" bolt circle)
Weights:
- 1-Piece 2.0 Front Runner = 7.8 lbs
- Goodyear 26" front tire = 10.8 lbs
- Total front wheel and tire weight = 18.6 lbs
When installing the front Aluma-Stars you'll need to carefully check the caliper off-set clearance with the wheel spokes. With a 1997 Z28 you may, or may not need a spacer to clear the caliper off-set. If your front rotors have been turned and your caliper pads are worn, the spokes will possibly clear the calipers. However, with new rotors and pads, you'll need a 3/8" spacer. I made my own spacers, as the off-the-shelf ones are very cheap.
The correct lug nuts have ½" shank length, then with the flat washer only 3/8" of the shank is used. If the shank is too long, it could bottom-out before the lug nut is properly torqued on the wheel.
If you use 3/8" spacers you may need to install slightly longer studs to ensure you catch an adequate number of threads. I used 3/8" longer studs that I found at Advanced Auto. Additionally, with the acorn nuts you need to make sure the stud doesn't bottom-out in the nut.
I'm using Goodyear 15" x 26" tall x 4.5" front runners, which is a typical size front tire for an F-Body.
REAR:
15" x 10" wide (back-spacing is actually 7.0") with 5 x 4.75" bolt circle. And these wheels fit perfect in the 4th Gen rear wheel-well (flush with the body quarter-panel and doesn't rub the inner well). Max slick heigth is 28", anything larger will require cutting the wheel opening.
Weld Part number; 788-510284 (not in their regular catalog) but can be ordered.
Weights:
- Rear 2.0 10" wide = 11.22 lbs
- Goodyear 28" x 10" = slick 23.1 lbs
- Total rear wheel and tire weight = 34.32 lbs
They rubbed my factory rear calipers ever so slightly (on the cooling fins), I used a disc sander to clearance them.
http://shutter15.pictures.aol.com/da...Jpjo+S0300.jpg
This launch is with 13.5 PSI.
http://shutter10.pictures.aol.com/da...SVwEEv0300.jpg
WD
-------------------
1997 Z28 A4, 396 LT4 Golen stroker w/ AFR LT4 heads, Comp XFI Cam, Kooks headers, PCMforLess tune, Vigilante 3600, Spohn adjustable TA, Strange 12-bolt w/ 4.30s and Wolfe 6-Point.
http://www.cardomain.com/ride/2189634
---
Last edited by Injuneer; 01-29-2008 at

01:26 PM

.
Thread
Thread Starter
Forum
Replies
Last Post
2010 - 2015 Camaro Wheels, Tires, Brakes, Suspension