Lowering my camaro questions
08-09-2013, 02:18 AM
Re: Lowering my camaro questions
---
I lowered my 96 2"

I did the eibaches all the way around.

I did agx kyb 8 ways I'm the front.

I took the spacer out of the bottom ofn the rear shocks to stand them more upright.

I rolled the rear fender lips because of my 315s

I got Polly bump stops

And

I added drag bags to the rear for a lil leveling when we pack and road trip the car....


Its not all needed....but rubbing and bottoming out sucks.

Just an LTXtech addict
08-09-2013, 08:16 AM
Re: Lowering my camaro questions
---
Poly bump stops is a good idea. were they shorter? and what about panhard bar? do I need an adjustable one? and yeah I want the eibach shocks but do the springs make much difference or can I go with an off brand?
01-25-2014, 11:41 PM
Re: Lowering my camaro questions
---
Yes an adjustable panhard is a must as well... Allows u to recenter. If money is not an issue...get one u can adjust while on the car. its a pita to adjust then force the car over to thebside to remount..to repeat and repeat again till i can get it right.


The poly bumps were slightly shorter...but just a better quality for when u di bottom out.

LTXtech.com is my drug.
01-28-2014, 02:27 PM
Registered User
Join Date: Nov 1998
Location: Macon, GA
Posts: 596
Re: Lowering my camaro questions
---
HANDS DOWN the best way to lower a 4th Gen. F-Body is with Strano Springs and Koni SA shocks! It ain't cheap though...you're looking at $1K in just those 2 sets of parts and you still need the Adj. Panhard Bar as well as LCA relocation kit. However, I learned this the hard way. I went with Eibach springs originally and a set of cheap shocks from AutoZone and the ride was HORRIBLE and it got to the point I didn't even like driving it. I did my research and went with the Strano springs and Koni shocks because I was hooked on the lowered look by that point, but I HAD to get my ride back. The Koni shocks let me dial in my ride. For my daily driving, I've got them on full soft and it really feels like the stock set-up, but if I want to get a firmer ride, that's no problem either to firm up the shocks!

I lost money when I did it the wrong way and then had to take a loss and sell those parts and then buy the Strano/Koni set-up. Do it right the first time and learn from my mistakes.
03-22-2014, 02:49 AM
Re: Lowering my camaro questions
---
Thanks for the help everyone. I found some eibach springs and shocks on ebay forabout 700 with a 1.5 in drop. ill do the panhard bar as well. for this setup do you think the LCA relocation brackets are necessary? Also I want to run bigger tires (possibly get up to 315's one day) how did you go about the fender? I recently painted my car and don't want to mess that up
04-06-2014, 02:56 AM
Re: Lowering my camaro questions
---
Relocating brackets will help keep u from wheel hopping when u spin the tires... inner fender wells... took a bfh... outter lips are rolled using an eastwood fender roller.. but u csn crack.paint.. so be carefull
However see if u need to even worry about that....every car is different.

LTXtech.com is my DRUG!
05-03-2014, 02:21 PM
Re: Lowering my camaro questions
---
Not sure I understand your question. Adjustability has nothing to do with "quality".... it's a matter of "function". Possibly you are asking about two different things.
LCA relocation brackets simply bolt/weld to the stock brackets on the rear axle, and allow you to lower the LCA attachment point on the axle, to keep the axle end of the LCA below the chassis end. The only "adjustment" is which hole you put the LCA bolt in: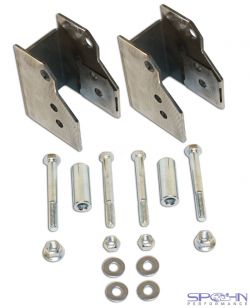 An adjustable LCA allows you to lengthen and shorten the LCA, to move the rear axle (and hence the tires) forward and backwards in the wheel well. This is primarily of use to position the tires in the wheel wells correctly, and nothing else. It's useful if you are running 28" tires, or running trap speeds in excess of 125MPH where growth of bias ply slicks can be a problem.
Thread
Thread Starter
Forum
Replies
Last Post
Suspension, Chassis, and Brakes
Supporting Vendor Group Purchases and Sales