2016 Shelby GT350
11-17-2014, 10:41 PM
2016 Shelby GT350
---
surprised nobody has this up yet?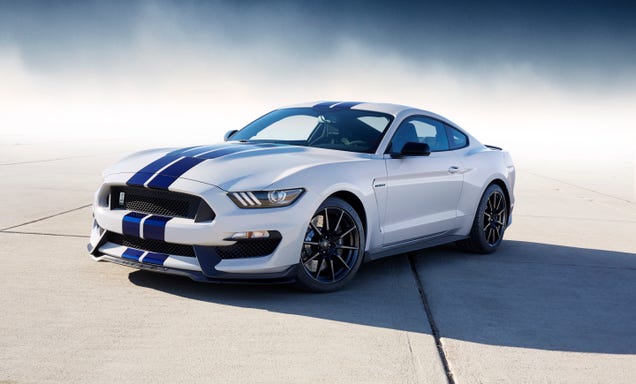 More pictures here at Jalopnik
The big feature is the 5.2 liter V8 using a flat plane crank and is supposedly 500+ hp with around 400 ft/lbs and an 8k plus redline.
It is using Ford's version of Magna-ride.
Its equipped with Michelin Pilot Super Sports (295's on the front and 305's in the rear)
2 piece rotors on the front at 15.2" and 15" once piece in the rear with 6 piston Brembos in the front.
Zero lift aero
My guess is that the GT350 will slot in performance wise between the 1LE and the Z/28 and isn't the Z/28 some blue oval nut swingers are begging for mostly due to the tires unless the Pilot Super Sports are ringers.
Now as a Mustang guy I'm hoping it offers around 9/10ths the Z's performance or close enough at a much lower price point
No word on price (hopefully around 60k) or curb weight (hopefully around 3800 pounds) but given that this car is loaded and there seems not to be a whole lot in the way of weight reduction - the Recaros should be lighter than the standard premium power leather seats and given the increased size of the brakes I'm thinking they will be mass neutral at best or just a little bit heavier than the Performance Pack brakes on the GT.
11-19-2014, 10:11 PM
Re: 2016 Shelby GT350
---
Tbh, I saw other people posting the car. I'm not particularly in love with it. For the price tag this car is going to carry, I think I would prefer the previously model Boss or GT500.
11-29-2014, 10:18 AM
Re: 2016 Shelby GT350
---
autoguide.com is saying 53k for a base car and approaching 60k tarted up with electronics package and a track pack plus Ford has an R model in the works which should be more analogous to the Z/28 in performance and price.
I figured around 60k when they first introduced the car but if its not just a bunch of blather 53k for the GT350 seems reasonable provided you get all the stuff performance equipment Ford has on the show car.
Also the GT350 is using the same Tremec M6 installed in the ATS with enhancements, IIRC the TR3160. I figured it wouldn't be using the Getrag MT82, I'm surprised it isn't using the TR6060 but I figure weight and parasitic losses are the reason plus not having to deal with 600 plus foot-pounds of twist.
---
Last edited by bossco; 11-29-2014 at

10:32 AM

.
Thread
Thread Starter
Forum
Replies
Last Post
2010 - 2015 Camaro News, Sightings, Pictures, and Multimedia
2010 - 2015 Camaro News, Sightings, Pictures, and Multimedia
2010 - 2015 Camaro News, Sightings, Pictures, and Multimedia
2010 - 2015 Camaro News, Sightings, Pictures, and Multimedia
2010 - 2015 Camaro News, Sightings, Pictures, and Multimedia