berger kinda
01-16-2008, 03:36 PM
Registered User
Join Date: Mar 2003
Location: Alcohaulin Ass
Posts: 727
I have been seeing it more and more lately, especially with 4th gen cars because it looks pretty good and it seems fairly easy to paint. It also is a similar style to older late 60's, early 70's cars. Seem some of them have that black rear pannel.

Nick
01-29-2008, 12:20 AM
Registered User
Join Date: Jan 2007
Location: SLC, UT
Posts: 224
I just got a 2nd panel to do this to so I can leave my Quasar Blue one alone. I plan on puttin chrome CAMARO lettering in it and painting black. Would be cool to do like a Black Chrome/Onyx kinda thing to the lettering though
01-29-2008, 08:02 PM
Registered User
Join Date: Jul 2005
Location: Greenville, NC/ Daytona Beach, FL
Posts: 697
01-29-2008, 10:51 PM
Registered User
Join Date: Jan 2007
Location: SLC, UT
Posts: 224
I'm also wantin to shave my rear key hole because I never use it, my key is tough to fit in it *it was a VIN cut...* and I use my FOB/Dash button anyways.
My friend's car has got the Black panel with Z28 badge in the middle, infact it's the panel off his car is MY berger panel
02-01-2008, 01:15 AM
Registered User
Join Date: Jan 2007
Location: SLC, UT
Posts: 224
Oh I'm deffinatly regular people
But I happened to get an extra panel to keep my blue one intact lol. I duno, I have a buddy in high school that will use their paint booth to paint it, so whatever I can get the cheap paint for heh
:edit Here is my goal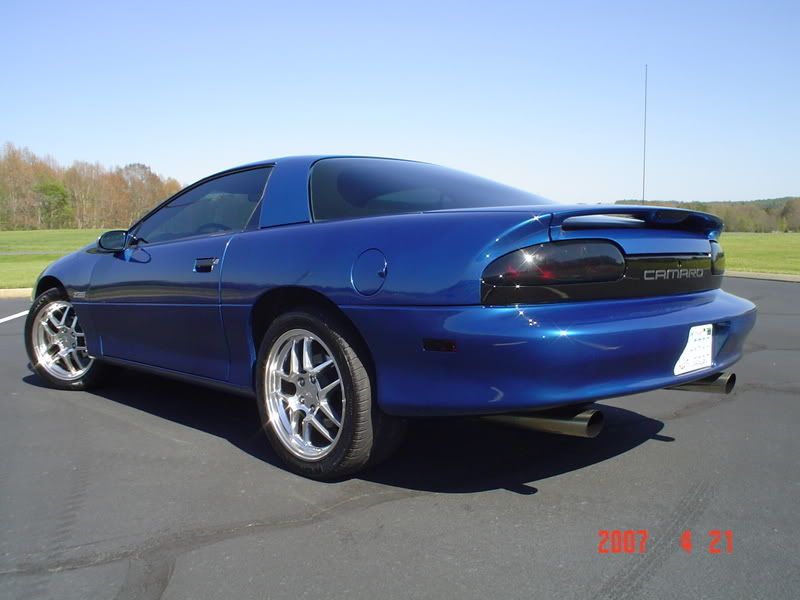 Soooooooooo Sexy, Except I will be shaving the key hole too
---
Last edited by theratdude64; 02-01-2008 at

01:17 AM

.
Thread
Thread Starter
Forum
Replies
Last Post
General 1967-2002 F-Body Tech