The PatriotDream.org 68 Camaro project
04-24-2008, 06:21 AM
Awesome Jason, thanks!
We are on track to have it complete in July. Shawn's division got fast tracked and he's actually coming home from Iraq tonight!
He won't be able to get back "home" to where we are till July, so we're keeping it a secret until then.
04-25-2008, 10:36 PM
https://www.camaroz28.com/links/browselinks.php?c=12
Click the submit a link at the top!
We are on track to have it complete in July. Shawn's division got fast tracked and he's actually coming home from Iraq tonight!
He won't be able to get back "home" to where we are till July, so we're keeping it a secret until then.
Good luck, hope he doesn't user the Internet!
04-25-2008, 11:27 PM
Registered User
Join Date: Sep 2002
Location: Ohio
Posts: 272
Thats an awesome project, lookin good!
04-26-2008, 03:31 AM
We need more updates !!!!!, i would help ya out but i'm way up in Wi. keep up the good work.
04-28-2008, 10:00 PM
I got the car down and on four wheels the other day! Unfortunately, then is started raining and we had to push it back in before we could get pics. We then jacked the car up and started working on getting the mockup engine and trans in the car. Speed Hound has been working with us on some retrofit brackets, so we wanted to mock everything up to see what needed to be done before we put the new drivetrain in.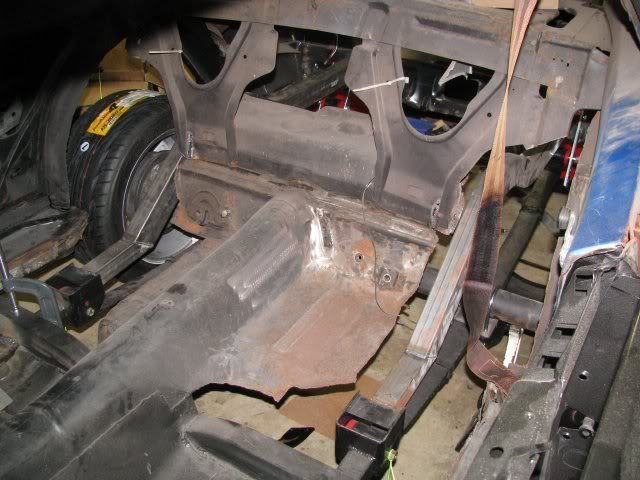 And more powdercoated parts by Triangle Musclecar.
04-30-2008, 09:26 PM
Messed around a little more with the car tonight. I thought I'd work on getting the body together so we can start figuring out and contact issues we're going to have. I just loosely put them on for now, once we get the engine and trans mounting all figured out I'll get everything straight and bolted up so we can see how everything goes together.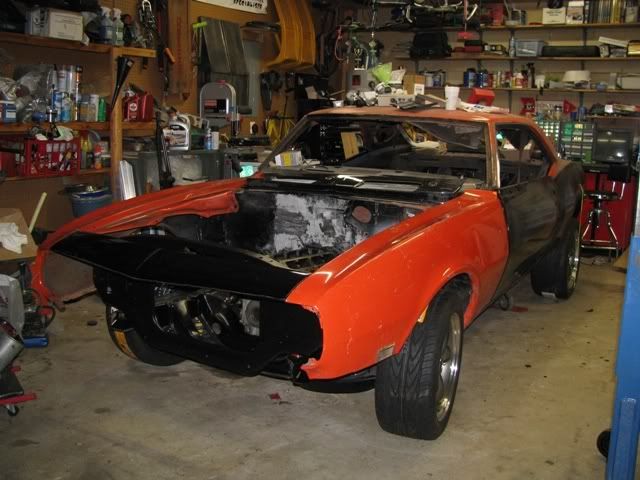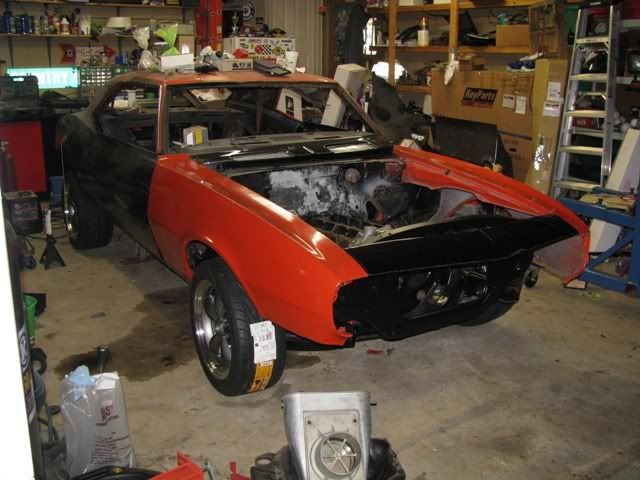 05-04-2008, 08:32 PM
More work for today! A guy contacted me last week via email and wanted to help us out. He donated a 12-bolt with an Eaton posi, 3.55 gears, and it was pretty much brand new. PERFECT rear axle for the car! Not sure which forum he found us on, but he definitely had some nice toys in his stable at his place. So thanks a ton, Tim!
My brother-in-law (different one!) came over to help today. We cut off the spring perches since our frame rails are aftermarket and narower. Then we bolted up some new adjustable ones that would make it easier to adjust the axle once we get it on the car. After that, we yanked the axle shafts and bolted up the new LS1 rear brakes with some backing plates I got from a friend of mine, pads and rotors from Rotors Online (pads not installed yet), and some Triangle Musclecar powdercoated calipers.
Came out killer, don't ya think?
05-08-2008, 10:20 PM
I worked a little tonight getting the old inner fenderwells out and getting the rest of the rusted trunk floor cut off. I hope to finish that up this weekend and get my templates finished up for the trunk so I can fabricate the trunk and rear seat area.
But in the meantime I powdercoated the intake and put the fuel rails on it. I'm going to run it over to Joel at HRT Performance to have him do the AN lines and all.
05-12-2008, 09:33 PM
More updates! I got the new engine mounts and got the mockup engine and trans sitting in the car with the intake and all:
And then I finally got the old inner fenders chopped out and ground down and the new ones tacked in:
And then hit the front fenders with the grinder and found this mess. The fenders looked good from the back, but huge globs of bondo hid the horrors from the front. Ouch. Looks like more work I didn't count on, yet again.
05-15-2008, 08:38 PM
I had some fun tonight! After much careful planning and measuring, I welded up some braces for the fuel cell to mount to and got it sitting in the car. I mounted it so it will sit under the floorboard and I can use a 45deg filler neck and fill kit to mount at the stock location. I'm thinking of going with the Jaz kit with the 2-1/2" external cap, but I'm not sure if it will fit in the stock location. I guess I can always cut and trim to make it fit, not like anything on the car is stock anyway.
Here it is, though.
05-15-2008, 08:41 PM
fits like a glove...at least it looks like it
05-15-2008, 08:53 PM
05-15-2008, 08:54 PM
06-02-2008, 09:09 PM
No pictures, but just wanted to give you all a quick update. We're working on the templates for the rear trunk and seat area. We've got them almost finished up. Shawn's brothers are getting some sheetmetal so we can fab them up and get the trunk in the car.

Also did some more work getting the front fenders cleaned up. The passenger side is good and we're going to use it.

The driver's side, however........is TOAST. I got to the point where I was about to weld in some new metal for the hole I found, but decided to do some further grinding to see if there was anything else. What I found was about 1/4" of bondo and a severe smack in the front part of the fender that was VERY well hidden with bondo. They even smoothed the BACK of the fender to make it look ok.

So if anyone has one standard driver's fender we can use, or two RS fenders, PLEASE LET ME KNOW!

We're also going to be using Scorpion coating on the underside and firewall of the car. I have a new business starting up once the Camaro is finished, Triangle Specialty Coatings, and I'm going to be the Raleigh area OEM for Scorpion, so I am going to colormatch the undercoating and then spray the firewall black. Should turn out really cool and show off what Scorpion is all about! Hopefully I'll get all my training done and my dealer package in so I can start on the car as soon as the trunk is finished up!
06-14-2008, 09:13 AM
Another no picture update.
I'm cleaning up all my work so far and getting some of the body worked on. The firewall smoothing is done and I'm working on getting the floorboards and trunk floor straight.
Ever since Shawn got home the donations have dried up and I am almost out of money on the car. I've used up all of the money I had saved for my own cars and just going day to day on small powdercoating work and whatever I can scrounge up by selling any parts I have lying around the shop. I still have a ton of parts and work needed, so if anyone here has a shop or knows a shop that might want to help or ANYTHING please let me know.
So with hope there is someone out there who has something lying around that they might be able to help with, here is the parts needed list again.
Monetary donations always welcomed!
Trunk lid
Standard driver's fender (or both RS front fenders)
Bumpers
RS headlight parts
Hidden wiper motor
Entire windshield wiper setup
Rear interior panels
All the little trim pieces from the dash
LS1 shorty headers
LS1 T56 bellhousing
LS1 T56 4th gear/input shaft
LS1 T56 6th gear
LS1 front plate
Performance LS1 camshaft
Steering wheel
New windshield and rear glass
Someone to fabricate the trunk floors and fix the floorboards!
And maybe someone who can do some body work?
And probably a ton of other stuff I'm forgetting. I'll update the post as I remember stuff. Feel free to PM me, post up, or send me an email to
[email protected]