The PatriotDream.org 68 Camaro project
03-03-2008, 08:58 PM
OK, got some updates! Got the gauges mocked up in there. The white circle in the middle I was going to use for another gauge, but I decided to use that spot for a few LEDs for turn signals and the like. I'm gonna mount the nitrous pressure gauge right into the dash somewhere. I have an idea, but not set yet. I have since painted the bezel semigloss black, so we'll see what I decide once I get the gauges in and in the car.
Also had some rust and some spots that I wanted to remove to smooth out the firewall. We cut out a small section of the firewall and I'm going to weld in a piece of metal there and smooth it over. I'm going to relocate the wiring bulkhead to under the fender to keep the clutter to a minimum in the engine bay.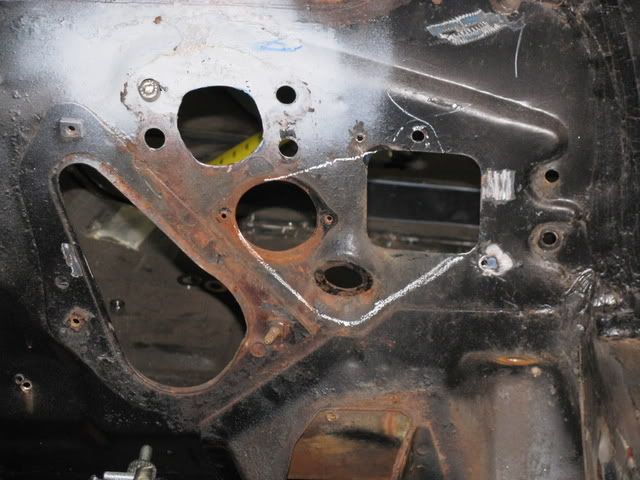 Temporary tacked thin metal.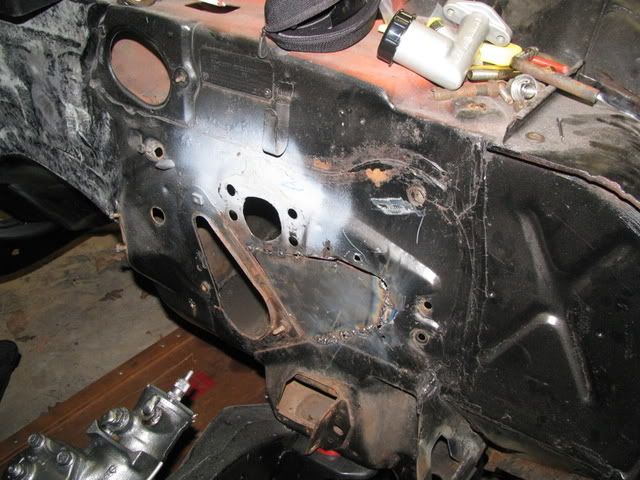 And I had good help, too. My good friend Russ dropped by and had some fun with the angle grinder.
My best friend also dropped by and sandblasted some parts for me, so last night I powdercoated them in semigloss black. These parts were ROUGH, so they came out pretty good for what I had to start with!
03-03-2008, 09:19 PM
I get multiple requests for what parts I still need every week, so here it is for those of you who might be interested!
Monetary donations always welcomed!
Trunk lid
Rear spoiler
Front spoiler
rear view mirrors
Bumpers
RS headlight parts
Hidden wiper motor
Entire windshield wiper setup
Rear interior panels
All the little trim pieces from the dash
LS1 MAF sensor
LS1 shorty headers
LS1 T56 bellhousing
LS1 T56 4th gear/input shaft
LS1 T56 6th gear
LS1 front plate
LS1 front and rear plates
Stereo system
2nd gen TA or Z28 rear axle, posi preferred!
New windshield and rear glass
And probably a ton of other stuff I'm forgetting. I'll update the post as I remember stuff. Feel free to PM me, post up, or send me an email to
[email protected]
Thanks!
03-03-2008, 09:20 PM
Donated! I'm a soldier also and I'd hate to see this project come up short!
03-03-2008, 09:47 PM
Registered User
Join Date: Nov 2006
Location: Green Bay, WI
Posts: 42
good to see this project still moving along. keep up the good work
03-03-2008, 09:51 PM
03-03-2008, 10:02 PM
wow i never seen that combo for the gauges. I got mine predrilled...

very cool! keep up the great work
you have me wanting to do another resto on my 67 !!!
.....hummm
03-04-2008, 05:58 AM
I got a blank one and laid it out in SolidWorks before I touched it with a drill. Wanted to do something a little bit different.
A guy on the Z28.com board donated the entire stereo system, so mark that off, too!
03-17-2008, 09:39 PM
Got the gauge bezel all put together with the Autometer Ultra-lite II gauges and three LEDs donated by TheLEDLight.com. They are in a Covan's panel donated by Queen City Speed.
Also got in the Classic update complete wiring harness donated by American Auto Wire!
I'm going to have a BIG update this weekend, so stay tuned! I also REALLY need any help we can get. We're running out of time and money fast with a lot left to do.
03-17-2008, 09:40 PM
I was just wondering about this project earlier today
04-07-2008, 05:47 AM
Sorry for the delay in updates! Been a crazy few weeks! Here are soom shots of the progress:
A guy on the Camaroforums.com donated a brand new set of rearview mirrors from Rick's!
Also got the rear frame laid out, squared, and ready to be installed this week. Check out all my plumb lines and tape on the floor.
Also had a MAF donated! I blasted it, cleaned it up, powdercoated it, and installed some stainless hardware on it.
Also had a spare throttle body lying around so I took it apart and powdercoated it, along with the bracket and spring. I need the sensors for it if anyone has one lying around!
And also got in my modified spindles, hubs, and caliper brackets from Ed Miller! Ed left them bare for me, so I blasted and powdercoated the spindles and brackets.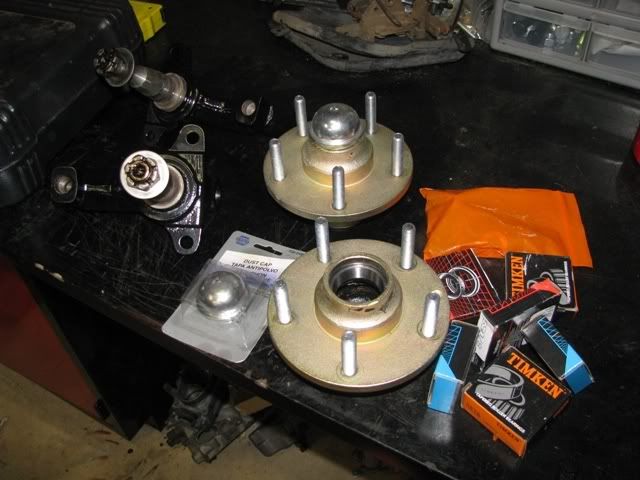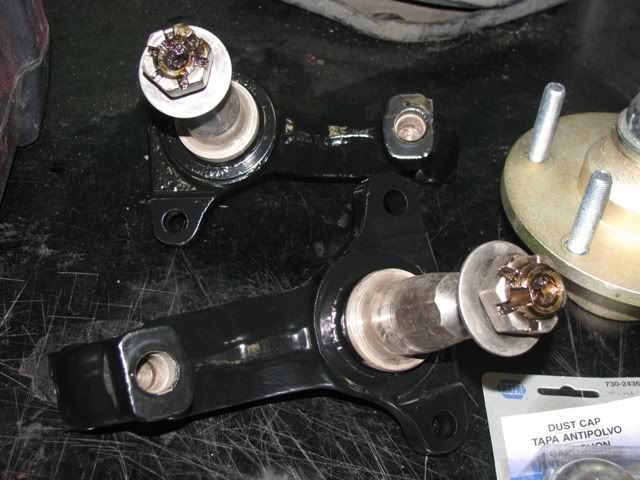 Tomorrow night look for some LS1 front brake pictures!
04-07-2008, 09:29 PM
And we have brakes! Got Ed Miller's LS1 front brake setup on the car and it is SWEET! The rotors are drilled/slotted donated by RotorsOnline. I didn't put the pads and all in yet because I had to order the hardware kit from CarQuest. But here it is!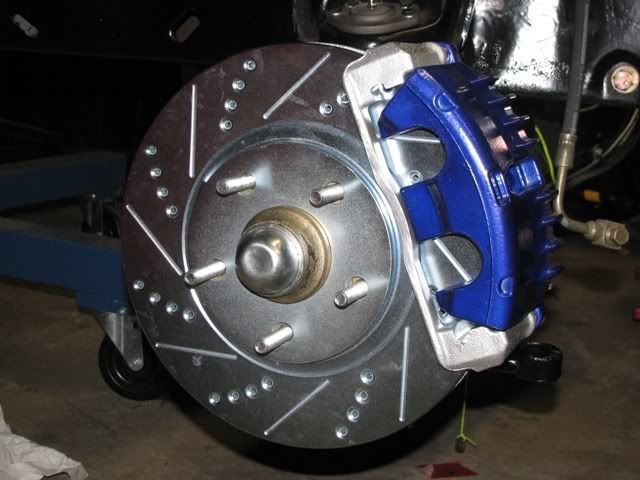 And the steering linkages installed, with the exception of a pitman arm, which I still need one off of a power box for a 1st gen.
And the front wheel installed!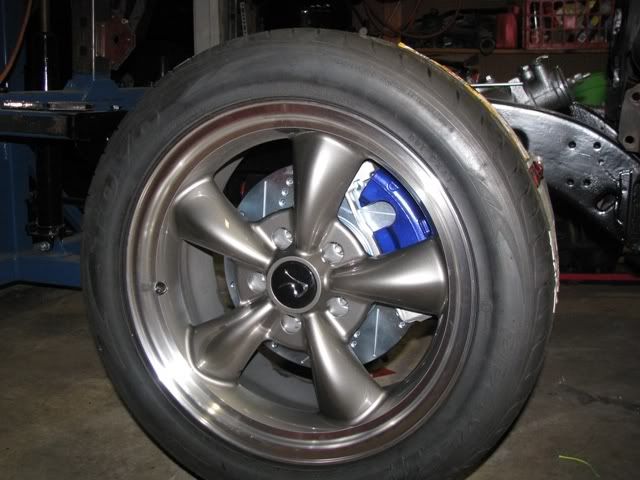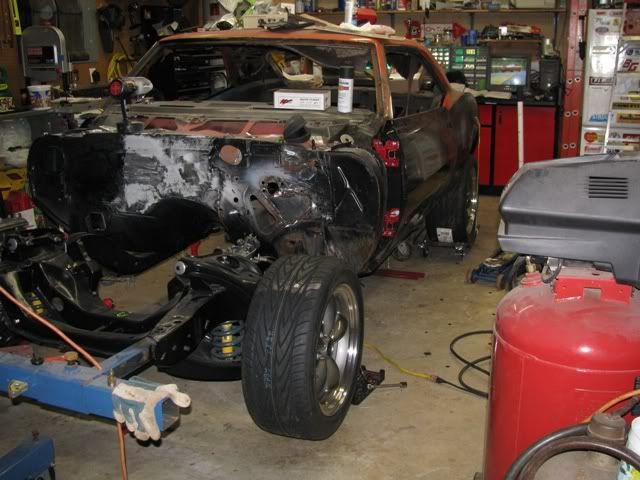 04-23-2008, 06:52 PM
The rear frame is finally squared up and installed! As soon as I get the new spring pads in the mail I'm going to have this car rolling!
04-23-2008, 07:05 PM
04-23-2008, 08:45 PM
would you say you are on schedule to get this completed?
04-23-2008, 09:22 PM