The PatriotDream.org 68 Camaro project
01-12-2008, 05:58 PM
Registered User
Join Date: Aug 2003
Location: Raleigh, NC
Posts: 93
I spent a large majority of today on sandblasting and powdercoating. The door hinges on the car were in ROUGH shape. They were incredibly rusted and the rollers were bent and broken, not to mention the pins were bad off, too.
After much sawzalling, hammering, sandblasting, straightening, swearing, and PCing, here are the finished products.
The red is the color we will be painting the car. My powder supplier has a line of automotive paints that matches their powders, so we picked a red we liked and bought a bunch of powder.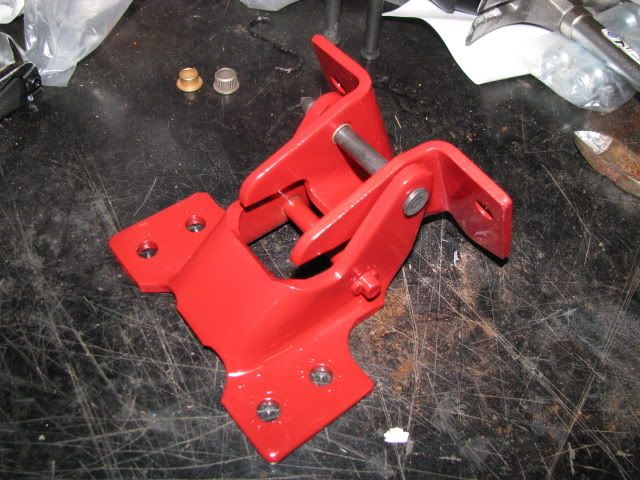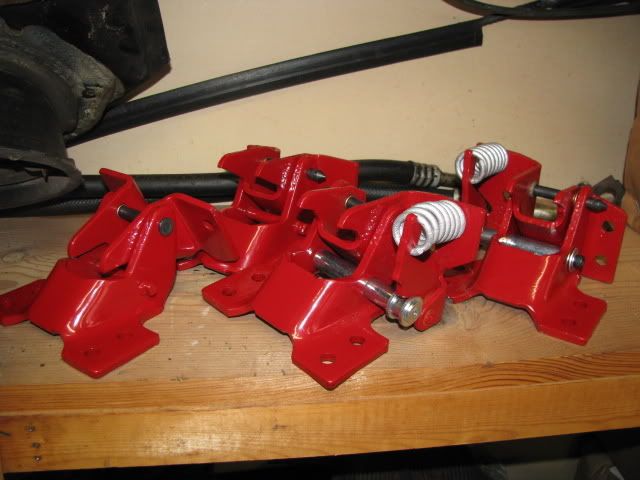 And I also powdercoated the rear calipers that RPM donated to the project. I went with a silver PC on the brackets and a Anodized Blueberry over a silver basecoat on the calipers. Tomorrow I'm going to do the front ones I have here.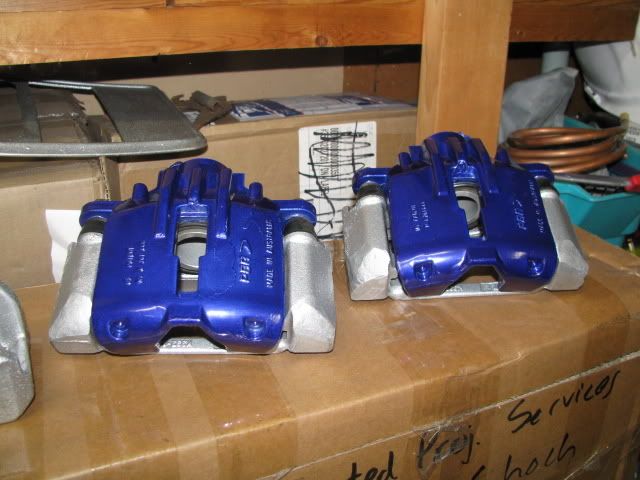 01-14-2008, 10:03 PM
Registered User
Join Date: Aug 2003
Location: Raleigh, NC
Posts: 93
Got the steering stuff all put together. We blasted and painted the center link in semi gloss black and then I painted the tie rods with gunmetal. The Prothane boots really set off the part, too. I'm also replacing pretty much every bolt and nut with either stainless of grade 8 stuff. I'm also eliminating all the speed nuts that I can.
And I powdercoated the front calipers. The slider pins were crap, so I didn't bother assembling them yet.
And in other news, we're gonna be on TV! A NC show based out of the Charlotte area called Cruise Control TV is going to be doing monthly segments on the car, out first interview is this coming Monday! I'll keep you guys posted on the air dates.
01-15-2008, 06:56 AM
01-16-2008, 07:33 PM
Registered User
Join Date: Aug 2003
Location: Raleigh, NC
Posts: 93
I'll get permission and post them up, don't worry!
Got the calipers assembled tonight. I bought new sliders, but found some old ones in the shop and used them just for mockup. I'll install the new sliders when we put them on the car. I am EXTREMELY pleased with the color scheme I picked for the brakes. The silver and blue just really pop.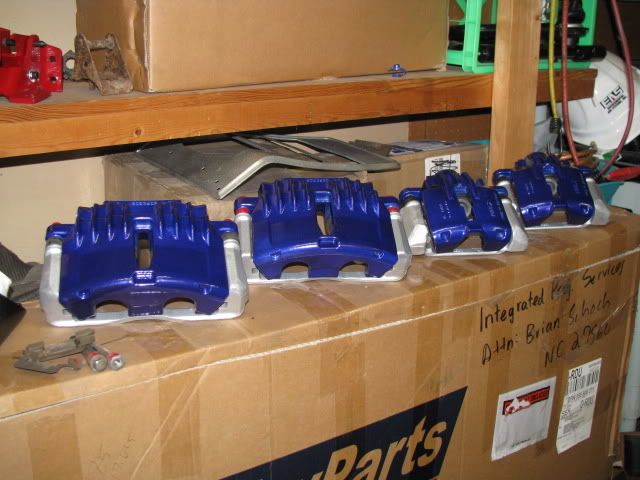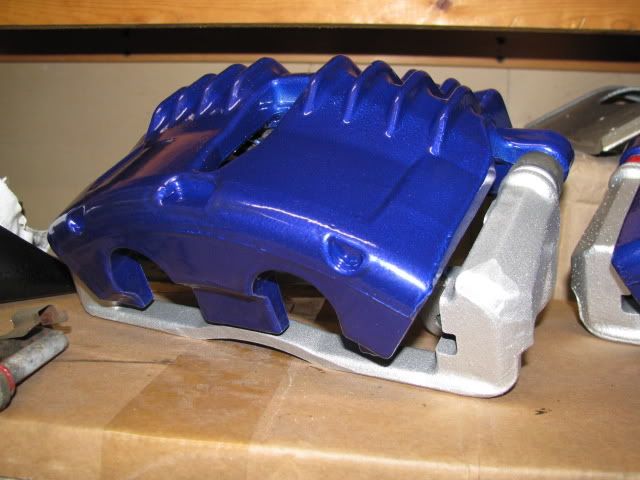 I also got my welder back and they finally figured out the problem. This weekend the rear frame and suspension goes in!
01-17-2008, 06:49 AM
Banned
Join Date: Mar 2004
Location: Sandy VJJville
Posts: 3,590
Originally Posted by
4birdman
Your pictures weren't working in your post so I edited the URL's.
I'm pretty sure these are the right pictures. They look damn good man!
---
Last edited by shock6906; 01-17-2008 at

06:52 PM

.
01-20-2008, 05:17 PM
Registered User
Join Date: Aug 2003
Location: Raleigh, NC
Posts: 93
Not any new pictures since it has been friggin cold and my son has been feeling bad, but I did get the mock axle ready to go on so I can fab up the rear frame and suspension. This week I'll get that all squared away so this puppy can be rolling again!
We also have some Patriot Dream stickers for sale to help with the project. They are $8 shipped and come in red, white, or blue. We only have a few right now, but I'll get more if they sell quickly. Here are some photos of them on my wife and my cars.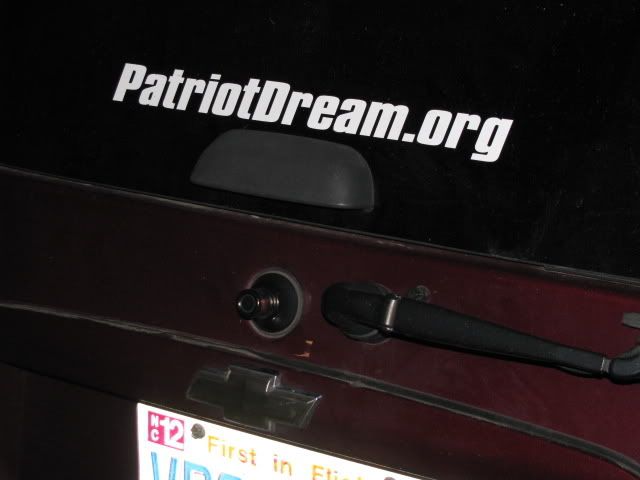 If you want one, send an $8 paypal to
[email protected]
or send me an email at that addy and I'll give you our mailing address if you want to send a check or money order.
01-21-2008, 07:55 PM
Registered User
Join Date: Aug 2003
Location: Raleigh, NC
Posts: 93
Thanks, man! Every bit is very much appreciated!
No real updates on the car as far as work goes. My little boy has an ear infection and we've been up taking care of him all weekend and all. Poor little guy.
But I did get a Flaming River steering column in that NPD donated to the project!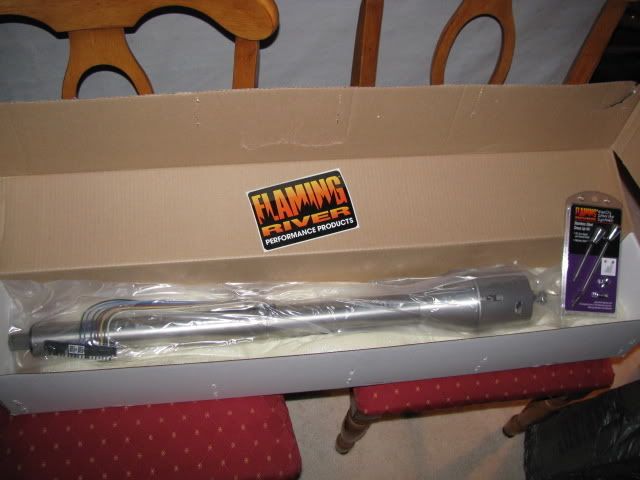 01-28-2008, 07:23 PM
Registered User
Join Date: Aug 2003
Location: Raleigh, NC
Posts: 93
Been a rough few weeks here. We found out what caused the ear infection in my son. If anyone has heard of RSV my son had a bad case of it. He had a high fever, and a horrible respiratory infection. Basically every moment I had where I wasn't at work was spent with him lying beside me so I could see if he stopped breathing or turned blue. Yesterday he was pretty much through with it, but guess who has a cold now....yep, me! This weekend will be a work weekend, though. TV crew from Cruise Control is coming to film us, so we'll get a lot done.
We also got our first donation from Iraq! A guy in one of the local clubs heard we needed a fuel cell so he sent us a new Summit 16gal cell with fuel sender and mounting kit!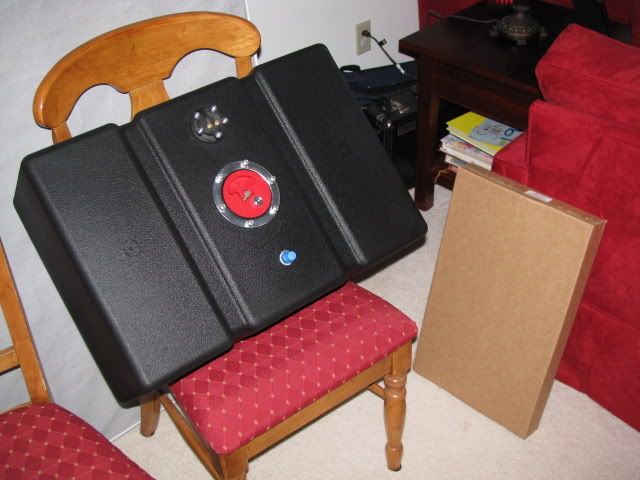 02-24-2008, 10:40 PM
Registered User
Join Date: Aug 2003
Location: Raleigh, NC
Posts: 93
Sorry for the long delay in posting! After my son finally started feeling better I got sick for a few days, but then I got a serious case of Sinusitis that had me all messed up for a long time. I couldn't even walk for a few days my equilibrium was so messed up and then for a couple of weeks after that I was still a little bit wobbly, so I wasn't supposed to be working in the shop. And then, of course, my computer died. Got a new computer now, though! Now I am back and running, literally! Just got word that Shawn's group got fast-tracked and he is coming home on April 20th! AWESOME news for all of us, but I am in a total rush now, especially after losing a month to being sick! I am going to try my hardest to get this thing done, but I am not sure if I can do it. Worst case Shawn and I finish the car together, which would be something very cool as well. With our budget and all, it is going to be a squeeze. If anyone wants to come help out on any weekend, or if anyone has any parts or anything they can help us out with, please let me know! If you offered parts and I haven't gotten back to you, I will get with you soon. I need all the help I can get in any way you can help us!
So here are some photos of my day in the shop!
Mocked up the Wilwood clutch master cylinder. I'm going to relocate the fuse panel down and out a little bit and modify the clutch linkage to work with this MC, but this should work out perfectly.
Upper a-arms powdercoated semigloss black with Prothane bushings installed. Thanks to HRT Performance for fighting the old bushings out and sticking the new ones in! Didn't even scratch the powdercoat! That's why they are the only machine shop I trust!
IROC steering box donated by a guy in Carolina F-body Club. All painted up and clearcoated in gunmetal.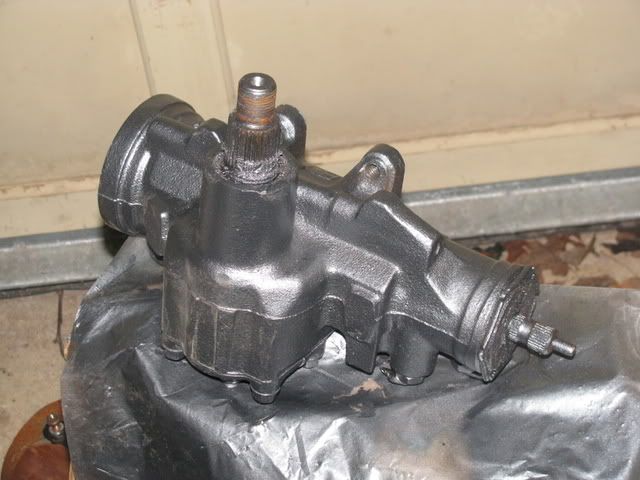 Got the hinges mounted on the doors:
Worked on setting up the rear frame and suspension. Gotta basically start from scratch. I need help with this if anyone local wants to come and do it for me!
And finally, the sweet remote trunk release that Modo Innovations donated to the project!
Tomorrow night I'm going to do some more work and try and get some more photos.