The PatriotDream.org 68 Camaro project
12-10-2007, 09:40 PM
He's coming home July 11th.
12-14-2007, 10:40 PM
Got some good stuff in this week! I got in the Hotchkis 2" front drop springs I bought off of brownz on the pro-touring board, and the VBP 2" drop leafs I bought off of 68sixspeed on the pro-touring board. Many thanks to them for hooking me up!
Also got in the Covan's dash panel that Queen City Speed donated to the project. Major thanks to them for taking care of us there!
And finally, we got everything we need to get the rear frame and suspension fabricated! But, our brand new Hobart welder crapped out after about 30 minutes of use. Yeah, it is covered under warranty, but I won't have it back till the end of next week. So I'll be able to fab everything up next weekend, but this week all I'll be able to do is mock it all up. At least we can do something, though.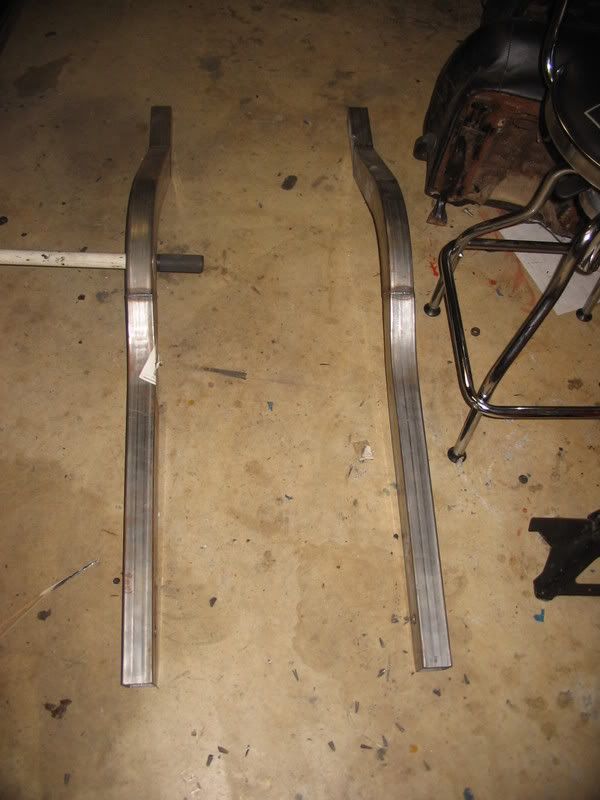 12-17-2007, 10:33 PM
Been doing a bunch of work over the weekend. Got the front subframe all sandblasted, Marine Clean'd, and Metal Ready'd. Tomorrow night I hope to get the POR-15 on it.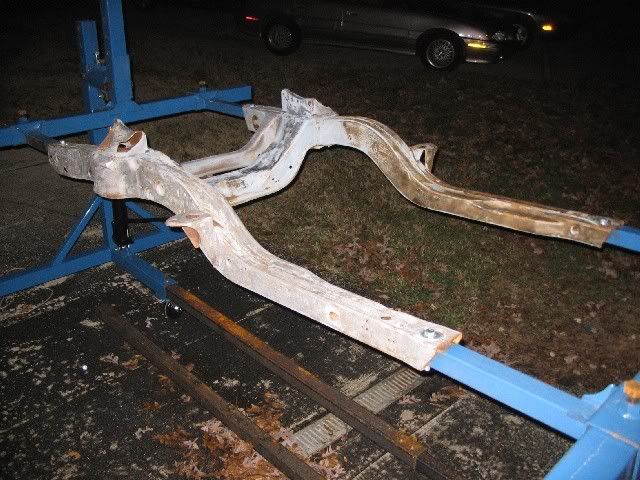 Also worked on fitting up the rear suspension. Here's a shot with the center and rear frame sections sitting on the leaf spring. I hope to have this all installed this weekend when I get my welder back from the shop.
And we also got these sweet seatbelts donated by Morris Classic Concepts. They are a 3-pt replacement for the factory lap belts. Now Shawn will be safe when he's crusing around town.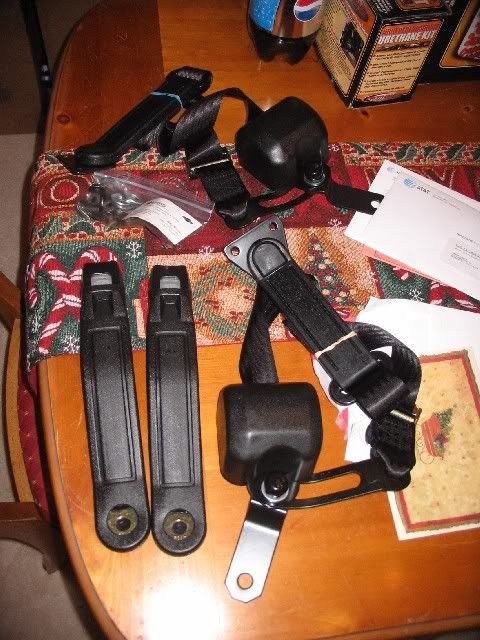 12-18-2007, 08:37 PM
Got a lot done tonight! My wife and I painted the first coat of POR-15 on the front subframe! Tomorrow night we'll do the second coat and then it'll be ready to install the suspension this weekend, and then back on it's wheels when I get the spindles back from being modified for the LS1 brakes by Ed Miller!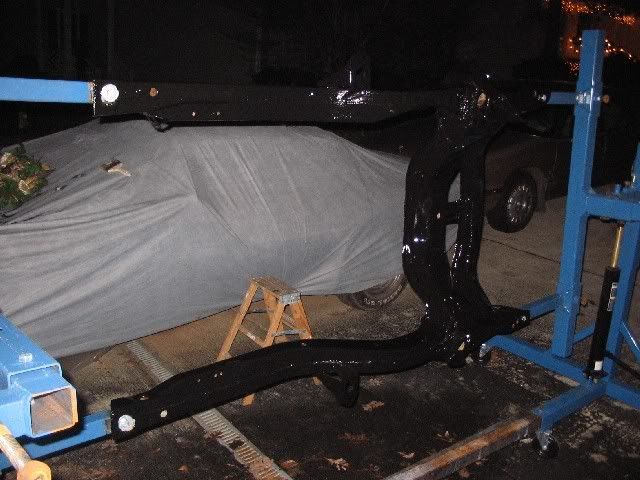 I also fabbed up a bracket and mounted the Wilwood adjustable prop. valve. I was going to bend the brake lines tonight, but they sold me the wrong fittings at the store, so I gotta go back tomorrow and get the right ones.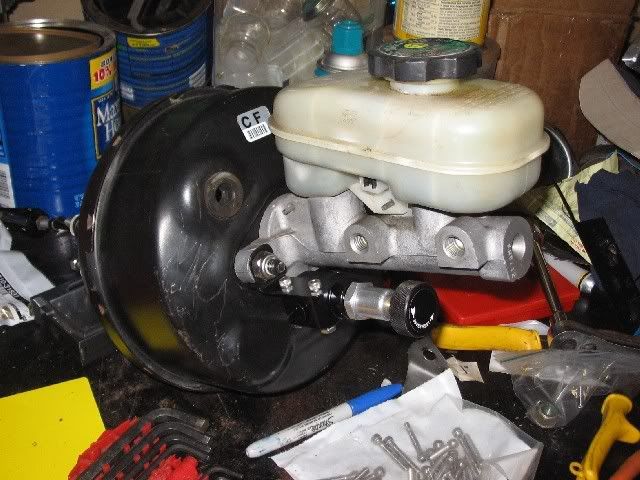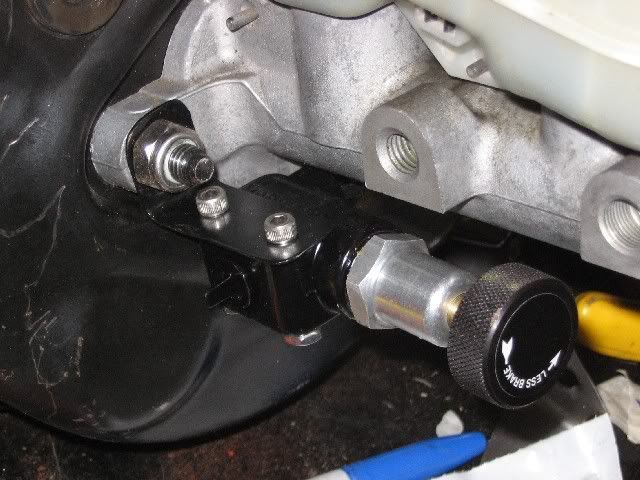 12-18-2007, 10:07 PM
I love them. I have one in black that was predrilled. 6 gauges total, very clean factory look....
keep up the great work!
(are those frame rails for the rear set up for mini tubs? what size rear tire you plan on running?)
and i got the same SFC too lol
12-19-2007, 08:34 PM
They are set up for tubs, but I am going to cut them and use the drop crossmember to set the width of the rear frame rails so I can use the stock gas tank. I'll minitub the back then. We're only running a 275 rear tire, but want to leave the option for more later.
12-19-2007, 08:36 PM
Registered User
Join Date: Nov 2004
Location: Raleigh, NC
Posts: 1,377
Yeah you better make sure you can fit a lot of rubber back there for when you guys get bored and put a blower on there one day.
12-26-2007, 11:07 PM
Big day today! I had the day off of work, so my brothers came over and we knocked out a lot on the car. I finally got my welder back from the shop and got the seat support all welded in. We also got the final coat of POR-15 on and a topcoat of Rustoleum semigloss black and then installed it on the car with the new Prothane bushings. Also had to run around town trying to find the right fittings for the LS1 brake booster before I realized I had a spare ABS module in the attic and could get the fittings off of it. I also started working on the subframe connectors and rear frame, I hope to have it all tacked in and mocked up this weekend. I told myself I'd have it rolling by the first of the year, and that could be a real possibility!
We also got a set of Bilstein shocks for the car donated by G-Machine!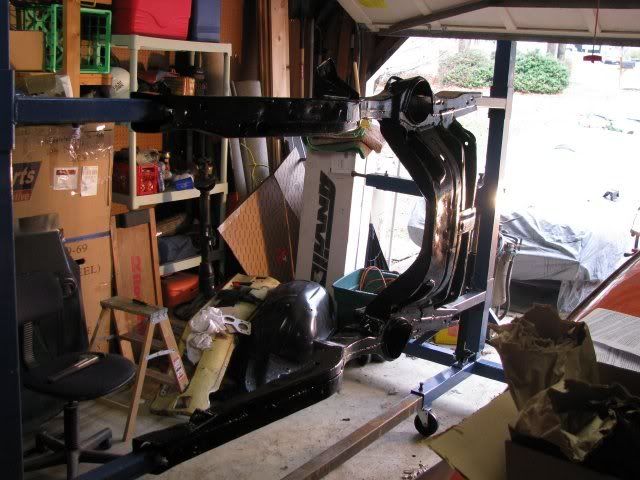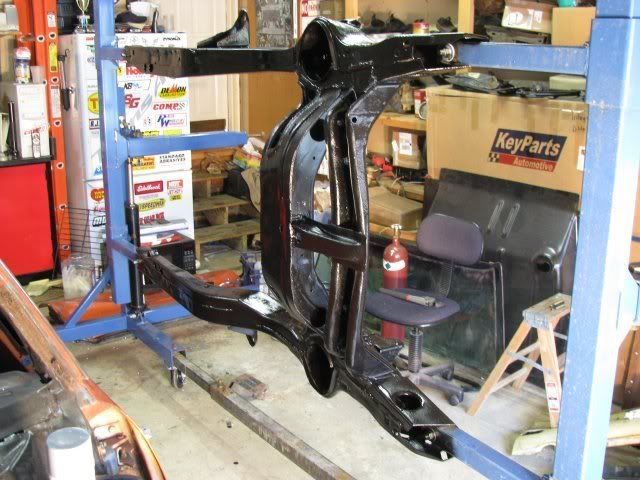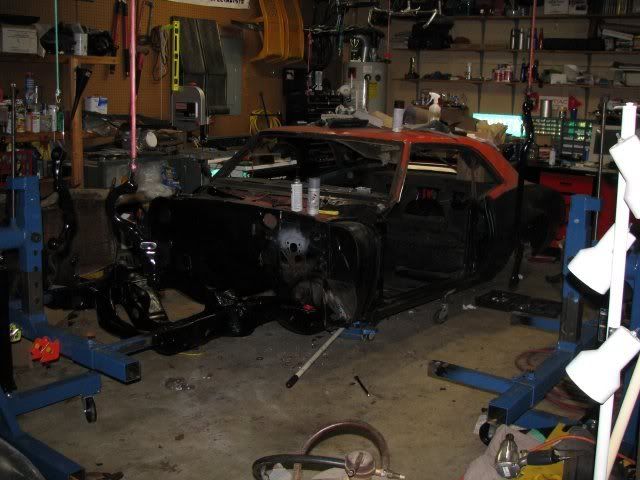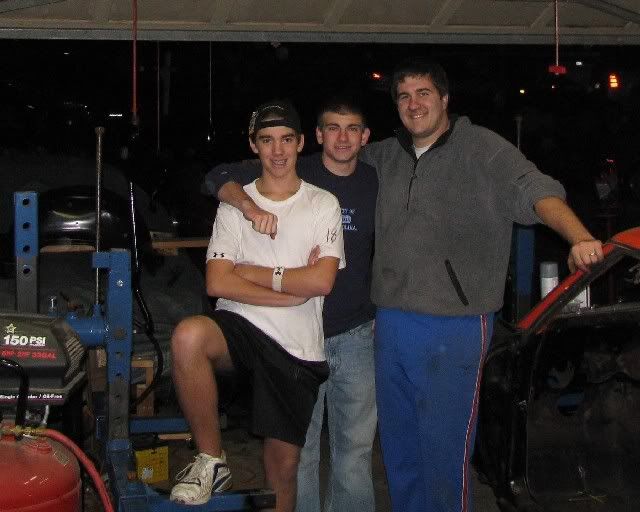 12-30-2007, 09:46 PM
Bilsteins donated by G-Machine!
I also got some of the rear chassis worked out. I used the Competition Engineering SFCs with the built-in spring pockets. I measured it all out and notched the drop crossmember 1/2" to recess them in there to make them fit tight. Should be really strong with them set into the crossmember and welded to the floorboard. Don't mind my ugly tack welds.
I also fit the LS1 brake lines to the 1st gen brackets. I just painted them for now, but I'll powdercoat them later. It was pouring rain out and I didn't feel like having a powder cloud floating in the shop while I worked. I also used some stainless bolts on it.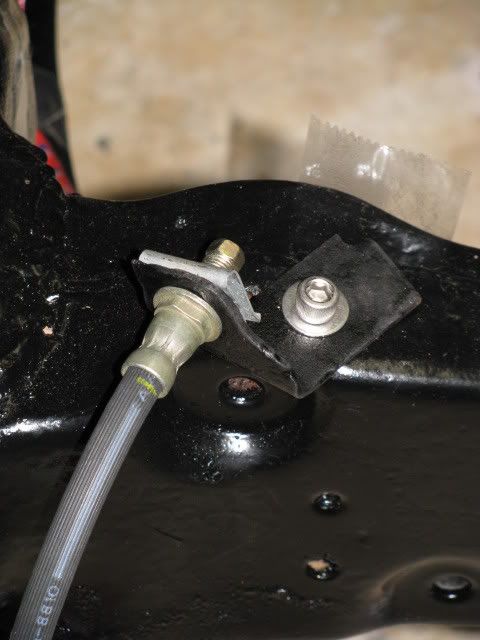 01-02-2008, 08:26 PM
Ran into a major snag tonight. With the suspension and chassis setup the way we were installing it, there is no way we're gonna fit a stock gas tank in there. If anyone has any advice or can hook me up with anything, please let me know! For right now, we're just going to install it as far apart to get as big of an aftermarket tank in there as we can. He'll still be able to fit some big meats under there if Shawn ever wants to.
We did get in some goodies, though! Goodmark donated some inner wheelhouses, a radiator support, and a driver's door shell!
I also bent up a brake line for the front subframe. I need to get a junction block for the driver's side, but I got the crossover done. I used insulated line clamps and stainless bolts to fasten it down.
And last but not least, I got the rear leafs painted and installed the Prothane bushings!
01-02-2008, 08:34 PM
your garage must be really crowded by now
01-02-2008, 09:01 PM
Hi nice project im in Burlington a little west of you. My father has a resto. shop. We buy parts from "Classic Muscle" in winston salem a divison of Modern Chevy. Being that its the New Tax year i doubt they will donate anything but worth a try. Here is the Number ask for Steve.(800) 722-4828 heres the website:
http://www.oldmusclecars.com/
I PMed u my Dads number in case u have trouble finding a part he might be able to help.
01-02-2008, 10:49 PM
looking around.....

i know someone online modifies the stock tank for bigger meats......

other places sell narrowed versions...

fuel cell? yah or nay
01-04-2008, 05:59 AM
I think I am going to go with a Summit fuel cell. Seems like the best option, it will fit perfectly and I can make it a very clean install.
01-07-2008, 08:03 PM
I wish I had more progress to post, but a lot of the things I've been doing have been things not worthy of pictures! I powdercoated up the rearend parts, worked on the axle I'm using for mockup cutting off the spring perches to shorted the spring width on them, and just some other small stuff.
I had it all set up so I could install the rear frame, suspension, and axle and have the back rolling this weekend. Of course, my brand new Hobart welder broke AGAIN and I am not sure if I'll have a welder for this weekend. Needless to say, I am PISSED!
Anyway, if I get lucky I'll have a welder for this weekend and then all my front suspension and steering parts will be here by next week and then I'll be rolling by next weekend.
Powdercoated spring hangers, spring plates, and a-arm washers:
I finished up the other taillight, too.
And I even had some help from Shawn's wife on Sunday. I taught her how to powdercoat and let her try it out on the dash bezel that was looking rough. She did a great job.